Posts for tag: common symptoms
By Jason R. Nelsen, DDS, PLLC
October 31, 2012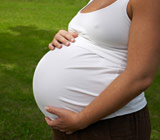 The beloved title of "mother" unfortunately does not come with a manual. If it did, it would certainly contain a section in which mothers-to-be could learn about the impact that pregnancy has on both their general and oral health. For example, did you know that during pregnancy the normally elevated levels of female hormone progesterone can cause inflammation in blood vessels within the gum tissues making the gums bleed? It typically occurs in response to less than adequate daily oral hygiene; however, it is just one important fact that all pregnant women should know.
There are numerous studies that have revealed that oral health during pregnancy can have a significant impact on the child growing inside you, and in particular, it has a direct relationship on your baby's developing and future oral health.
Periodontal (gum) disease can also be a factor in your baby's birth weight. In fact, there are a variety of studies supporting a positive link between pre-term delivery and low birth weight babies in the presence of severe periodontal disease in pregnant women. And there is also a correlation between the severity of periodontal disease and the possibility of an increased rate of pre-eclampsia or high blood pressure during pregnancy. This is another reason why it is important to see a dentist for an evaluation of your oral and dental health as soon as you know you are pregnant.
Please note that the goal of sharing these facts is not to scare you, but rather inform you so that you can be an educated mother-to-be. After all, you should be as healthy as possible for the most important job in the world and this includes both your oral and general health. Learn more about your body and discover the many relationships between mother and child as you read the Dear Doctor article, "Pregnancy And Oral Health." Or if you want to schedule an appointment to discuss your questions, contact us today.
By Jason R. Nelsen, DDS, PLLC
June 23, 2012
Dentistry has ventured into the new area of sleep medicine by helping snorers — and their exasperated sleeping partners — with custom-made anti-snoring devices. These oral appliances, which resemble orthodontic retainers or sports mouthguards, keep the snorer's airway clear and the bedroom quiet. To see how they work, you have to understand the mechanics of snoring.
Snoring occurs when the upper airway (back of the throat) becomes blocked by the tongue or other soft-tissue structures, such as large tonsils or a long soft palate. The vibrating of these obstacles creates the sound we call snoring.
Snoring is often worse when sleeping on one's back because that position encourages the lower jaw to fall back and the tongue to close off the airway. This is where Oral Appliance Therapy comes in. These custom-fitted devices are designed to keep the upper airway open during sleep by pulling the lower jaw forward, which in turn brings the tongue away from the throat. Dentists, and our office in particular, are the only source for Oral Appliance Therapy.
People who snore should have a thorough examination to rule out Obstructive Sleep Apnea (OSA), a potentially dangerous condition in which airflow can be cut off completely for 10 or more seconds ("a" – without; "pnea" – breath), reducing blood-oxygen levels. Chronic, loud snoring is a common finding with OSA.
Please remember that sleep is an integral part of health and well-being. In fact, we spend about a third of our lives doing it. If you are snoring or have any sleep-related breathing disorders that are waking you or your bed partner, be sure to tell our office. There are plenty of examples of the havoc wreaked by sleep-deprived individuals. Remember the Exxon Valdez?
If you have any questions about Oral Appliance Therapy, please contact us or schedule an appointment for a consultation.
To learn more about the topic of oral appliance therapy, please see the Dear Doctor magazine article "Sleep Disorders & Dentistry."
Dentist - Charlotte
7920 Moores Chapel Rd #A
Charlotte, NC 28214
704-392-8199
Emergencies Seen
Same Day